Whether you are an avid DIY-er giving your family area a facelift or a expert painter about to begin a new job, it is important to recognize that painting can come with specific health risks. The proper safety equipment and knowledge can help you safely achieve wonderful results.





Painting Hazards

Even if painting is a enjoyable task, it can lead to serious issues if proper precautions are not implemented due to its chemical structure. One reason for this is that paint is made from chemicals that are harmful to people. Extreme irritation can occur when it lands on the skin or in your eyes.

Headaches and respiratory issues may occur thanks to paint fumes. Highly flammable paint thinner and oil primer are also potentially dangerous. Without cautious handling, painters run the risk of burns. Performing at elevations is common for painting interior and exterior areas. The danger of falls and injuries is high.

Painting Risks Vs. Different Painting Methods

If you are about to embark on a painting project, you have to know about the risks associated with the type or types of painting you'll be doing. Here is a brief overview of the different types of painting and related risks:

Brush painting:

Just about the most common strategies to paint is with a paintbrush. This approach is used for painting wood, door frames, window sills and household furniture. Brush painting frequently occurs on walls and for use on creative projects. Widespread risks with brush painting include having paint splash in your eyes and dealing with spills onto the skin. Many use a brush to apply solvent-based or oil-based products. This can cause breathing troubles and headaches if proper PPE and ventilation are not a priority.

Roller application:

Paint rollers are generally used for ceilings and interior walls. This can lead to paint splashing in the eyes and on the skin. Being contorted in various positions while painting can be extremely uncomfortable and trigger pulling a muscle or getting injured. Painting as a vocation may cause more strains than a DIY'er modernizing their home. It is necessary to stretch and take regular breaks if you are an amateur or a professional. Insufficient ventilation and inhaling fumes is very unhealthy. Make sure to open windows and doors or use fans and try to wear a respirator mask while painting.

Spray painting is typical for interior and exterior applications. It is employed to complete large areas such as ceilings, exteriors of buildings and lobbies. Painters run the risk of getting paint debris in their eyes. Paint debris and fumes could also irritate their respiratory system. Safety and health precautions must be followed and the proper PPE and gear has to be implemented. This typically includes protective eyewear, clothing and respiratory protection.





Painting at heights:

Virtually any work that takes place above the ground calls for extra caution. Just falling off of a step ladder can result in disastrous results. Safety precautions need to be undertaken by those who work at heights to circumvent a life-threatening fall. This may involve scaffolding or safety harnesses. Painting pick up and preparations also come with their unique risks.

You must sand most wood items before painting. This tends to generate dust that extends into the respiratory system as well as the eyes and scrapes to the hands. The dust is especially harmful if you're sanding wood, old paint and objects with varnish or lacquer.Paint thinner is required for oil-based product clean-up. It's really a highly toxic item. This compound is extremely flammable and can easily catch on fire or contribute to significant burns.

Painting PPE

To keep yourself safe throughout any commercial or residential painting project, you need the appropriate personal protective equipment (PPE):

Gloves:

Protect your hands by wearing gloves. Select leather gloves for sanding and prepping tasks. Solvent-resistant gloves are essential if you are using solvents including paint thinner. Impermeable gloves are perfect for water- and oil-based paint.

Eyewear:

Go with safety goggles or protective eye wear every time you are working with paint thinners and paint for maximum protection. This is particularly important when you will be painting items above your head.

Paint masks:

Depend on a respirator or dust mask each time you are sanding and prepping items for paint. Protect yourself with a breathing mask as you are using a paintbrush or roller to avoid chemical inhalation. If you are painting outdoors, there may be adequate fresh air for the paint fumes. However, some people are working in a location with bat or bird droppings which might be harmful.When you're spray painting, you're best advised to use a paint respirator, since this offers more protection for your personal airways.

Coveralls and shoe covers:

Throwaway cotton coveralls and shoe covers can save your shoes, your skin and your clothing from being irritated or covered in paint.

Hard hat:

If you are working at heights, a hard hat is a smart safety precaution, as it could help protect your head if you fall. Construction sites have plenty of equipment and products that can fall and hit your head unintentionally.

Fall arrest:

Use a fall arrest system if you are painting at heights to maintain safety. It features either a single or dual carabiner that could be attached to an anchor point to capture you if you fall. For extra safety, it normally has a harness that straps around the legs and the torso. Scaffolding is frequently used to avoid fall injuries in a variety of situations.

Fire extinguisher:

Keep a fire extinguisher on hand if a fire breaks out because of paint thinner or any other combustible materials.
Call Us Today
778.769.3339

---
Articles & Resources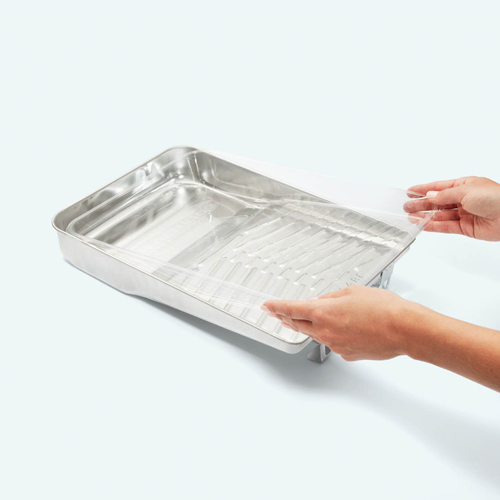 Paint Tray Liner
Painters Safety Equipment
Shurtape Canada