Old Masters is famous for its wood finishes and stain products. These cures are available for retail among individual hardware, paint and specialty woodworking areas. The company stands behind professionals and woodworking enthusiasts alike. Providing exceptional protection for lasting craftsmanship.





Small Town Origins

The business is from Iowa. This family-owned enterprise has been providing quality products and services since 1926. A Dutch immigrant developed the business. Their early beginnings started off creating paint formulations in a garage. With time, they started selling products across an assortment of industries. Surpassing client expectations with high-quality solutions is what this company is founded on. This tradition is behind the company's success.

Old Masters Brand

The business formulates its stains and finishes with old-fashioned artisan craftsmanship. These products are meant to seal, protect and commemorate the competency and experience of master craftspeople.The organization tagline, "Craftsman Quality Finishes," covers this attitude nicely. Old Masters items are meant to help clients sustain all aspects of their cherished woodcraft.

Rely on Old Masters Topcoat

Wood needs to be finished with a dependable topcoat to create a enduring, protected product. Don't make it possible for water or alcohol damage, surface abrasions or chipping, or marring to ruin your woodworking. Employ a clear topcoat finish to keep items protected from day-to-day wear and tear. UV shelter is offered in our exterior finishes. Protect against the sun and rain and exposure to wind, water and Mother Nature.

With so many choices, choose the right topcoat to enjoy a clear finish suitable for specific applications. For furniture items and antiques, Gel Polyurethane is a sensible option, although, this would not be suitable for flooring. Read each content label clearly to discover which item will be perfect for your project. Check out Old Masters' clear finish selection guide to help you decide on the ideal topcoat for your application.





Maintain long-lasting beauty on your exterior and interior finishes by taking very good care of the surfaces. Mother Nature will constantly challenge your exterior finishes. Typically, we advise applying clear outdoor finishes every couple of years. Features which are constantly in the sun may need to have a clear coat reapplied annually for best results.

Protect With a Topcoat

The very last thing you need to do to offer your woodcraft total protection is to finish off with a final clear topcoat.


Adequate ventilation is essential when you are working with any chemicals. Get rid of any dust or debris from the object using a clean rag. Thoroughly mix the product before and throughout the application process but Do Not Shake. Projects that need more than one container are suggested to combine containers and mix to create a uniform gloss before application. Test the finish on a undetected location to see if adequate adhesion is taking place. Do not implement in windy locations or sunshine. Don't rely on tack rags when you are applying water-based, clear finishes.

Follow these steps when applying a regular clear finish to correctly prepared wood:

1. Invest in a 2" or 2.5" China bristle paint brush to utilize your clear finish.

2. Light-weight, even coats can help you avoid having bubbles as part of your finish. Always stick to the grain direction and use marginal brush strokes to generate a smooth finish. Don't apply thick coats of the finish since this may result in drips or wrinkles during the drying routine.

3. Allow the finish totally dry before handling. View product labels for time frames because each product has its own drying times. The time may differ depending on the type of finish you are using.

4. Carefully sand with 220 grit sandpaper between coats. This can help the finish adhere better and creates a nicer result. Allow extra drying time in case the sandpaper becomes gummy. Get rid of any sanding dust between coats to guarantee a clear finish.

5. Recoating times and reapplication recommendations are on the product label. Most internal projects call for a minimum of 2 coats. Three layers are best for exterior applications. Every product has exclusive details on the label so read them diligently.




6. Before using your freshly finished items, allow them to rest for at least 24 hours to give the product proper curing time. Take extra care the first week after application to allow the product to cure to its toughest ability. Mark off floor applications from heavy traffic. Provide at least three days or 72 hours after the last coat to put furniture back in place. Move the furniture with the aid of someone and lift it into position instead of pulling it. Wait at least one week in advance of cleaning the floors or putting in rugs.

Tips For the Best Application

Try using a firm-bristled artists' paint brush to get rid of any lint prior to the finish drying.

Ensure your work area is free from dust previous to finishing to help keep the finish spot-free. There are many vapours in solvent-based finishes so exclusively use in well-ventilated locations.
Call Us Today
778.769.3339

---
Articles & Resources
How to properly care for a Paint Roller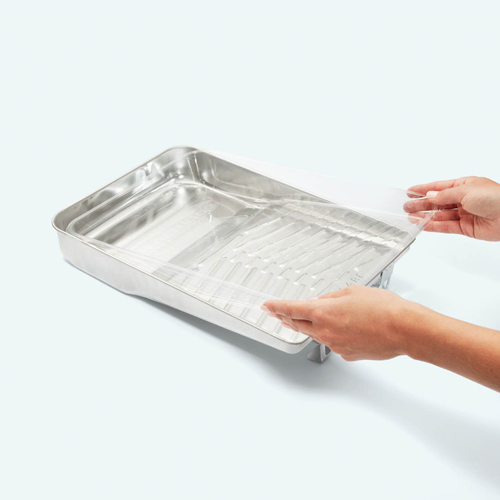 Paint Tray Liner
Picasso Proform Brushes