Wallpaper removal can seem daunting, however, with a few easy supplies and the right technique, it doesn't have to be scary.





Prep Your Space

Make sure your space is clutter-free before you start. Follow these pointers to secure your space:

Start by creating a clean and well organized space before you start extracting wallpaper. Retain these simple measures in mind so that you can prepare:

Push all furniture to the middle of the room and cover it with plastic. If you can remove it from the room great!

Use drop cloths to keep the floors shielded from any paint or water damage. Safeguard your baseboards with painter's tape.

Employ a tiny piece of painter's tape to cover plugins and prevent any water or paint from going into. Turn the electricity off to the room you are working in by shutting off breakers within your electrical panel. Use an extension cord and a lamp from some other room to offer additional light.

Allow yourself a complete weekend or at least a day for extracting your wallpaper. Certain kinds will require additional time, while others will be taken off readily. You won't recognize how much time this will take until you begin.

WALLPAPER Removal

Did you know there's 4 different styles of wallpaper? You can find peel and stick wallpaper, some having a removable top layer, strippable wallpaper and traditional wallpaper. Every type has a precise option for removing; therefore, it is essential to discover the kind you are working with.

Strippable wallpaper will come off the wall easily in full sheets.

Traditional varieties of wallpaper are more difficult to remove.

Peel and stick wallpaper will come off rather successfully in full sheets.

Note that the extractible top layer wallpaper appears to come off fast in the beginning and then you will notice the secondary backing layer still stuck on the wall..




Once you have identified the type of wallpaper you are confronting, it is time to get down to business.

1. Peel and Stick Wallpaper

If you would like simplicity for utilizing and removing, peel and stick may pique your attention. Simply start at one of the top corners of the wall and pull the wallpaper down carefully and firmly, working parallel to the wall. With proper care and cautious removal, you can even reapply this product elsewhere if you are gradual and gentle bringing it down.

Avoid over-stretching by being diligent and organized. If the plan is to recycle it another time, do NOT let the sticky parts of the wallpaper touch each other. They are very difficult to separate after touching.

2. Strippable Wallpaper

The least complicated kind to remove is strippable wallpaper, just like our Sure Strip Wallpaper. We constructed it with a pre-pasted backside to make it super easy to remove. Use a scraper or utility blade to peel back a little top section.

Next, pull the entire sheet straight down. Ensure that your hands continue to be close to the section that is currently connected to the wall. Keep a spray bottle of water accessible to help initialize the paste. Keep working with the rest of the wallpaper sheets. If any section seems to be stuck, use a water sponge or cloth or spray bottle to release the paste more. Wipe down walls with tepid water and some dish detergent to eradicate any bits of the paste that linger.

3. Traditional Wallpaper

Traditional wallpaper has a reputation for being tricky to remove. Using the proper equipment and some tolerance will have you working through it very quickly. Take a wallpaper scoring tool and poke teeny holes everywhere in the wallpaper surface. This will help the water and remover solution drench through the wallpaper and get to the paste.

Combine hot water or wallpaper remover and soak the punctured wallpaper in 3-foot sections to streamline removal. Note that wallpaper cleaner can be ordered online or at a hardware store. DIY your own wallpaper remover treatment with hot water combined with either vinegar or some fabric softener. Alternatively, work with a wallpaper steamer machine that you can rent from your local home improvement center to loosen the paper.





Very important...in case you are directly applying the wallpaper on top of the drywall, take care not to apply a lot of moisture or you will over-saturate the wall structure. Additional wetness can make extensive damage. To reduce damaging the drywall, use a spackling knife or a scraper to carefully remove the wallpaper. If there is any extra residue on the wall, carefully clean it off with a solution of warm water and also dish detergent.

4. Wallpaper with a Peelable Top Layer

Wallpaper employing a Peelable Top layer is normally made from vinyl that can be taken off while the backing stays on the wall. This is considered to be a two-step removal that begins with stripping the top layer off. Warm water or a spray bottle can loosen if it gets stuck. Use any wallpaper cleaner to bathe the layer of paper backing to expedite easy removal. Gently scrape the paper from the walls. Wipe everything away with a sponge and your water and detergent combination to take any paste off.

Finishing Up

Give your wall two to three days of dehydrating time after your wallpaper removal process is complete. If you can place a handful of fans running to confirm adequate air circulation, it is a great idea. In only a few days, your walls will be ready to delight in their new recovering. Adding new wallpaper can update your space! Enjoy your new space and be very proud of your creation.
Call Us Today
778.769.3339

---
Articles & Resources
Benjamin Moore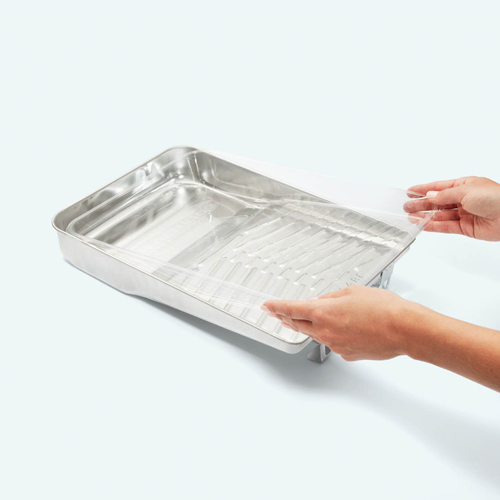 Paint Tray Liner
Picasso Proform Brushes